X
The Best of Mr.Chao - A Futurologist Collection ( Editora Madalena, 2019 )

The Best of Mr.Chao aims to be a visual meditation on the future, dealing with invented situations, scientific discoveries at laboratories and universities, scenes of natural and artificial life, insects and microorganisms, robots and nest fragments. Through an interdisciplinary and non-linear narrative, the series gathers photographs on a certain scope: future, nature and technology.
The intention is to show how these subjects meet and overlap in time and space, which are not determined in the series. This is because, often, the images appear to be from a distant past or part of an obsolete technology. Sometimes the images are shown within technological proposals that are still under development. And in other cases, they emerge from the imagination of the photographer about an idea of the "future".

''The Best of Mr. Chao – A Futurologist Collection presents a make-believe archive of weird and wonderful objects brought together by a fictional researcher, Mr. Chao. The collection charts his fascination for the relationship between nature, artifice and technological advancement. Robotic ants, a mechanical fish, a VR headset and an electric handheld coffee frother are just some of the many items that appear in the photographs – often applied in bizarre contexts, as if to suggest their initial function was never fully understood. Guilherme Gerais sought visual inspiration from visits to laboratories, recreations of actual scientific experiments and his own vivid imagination''. Daria Tuminas, Unseen Magazine #6, May 2019.

In this game about how technology looks at a certain time, the series also discusses how nature inspires man's scientific progress. Through natural computation, experts have been using the ancestral knowledge, intelligence, organization, collective habits and the logic of swarms, with the objective of developing mechanisms that facilitate the daily life of human beings.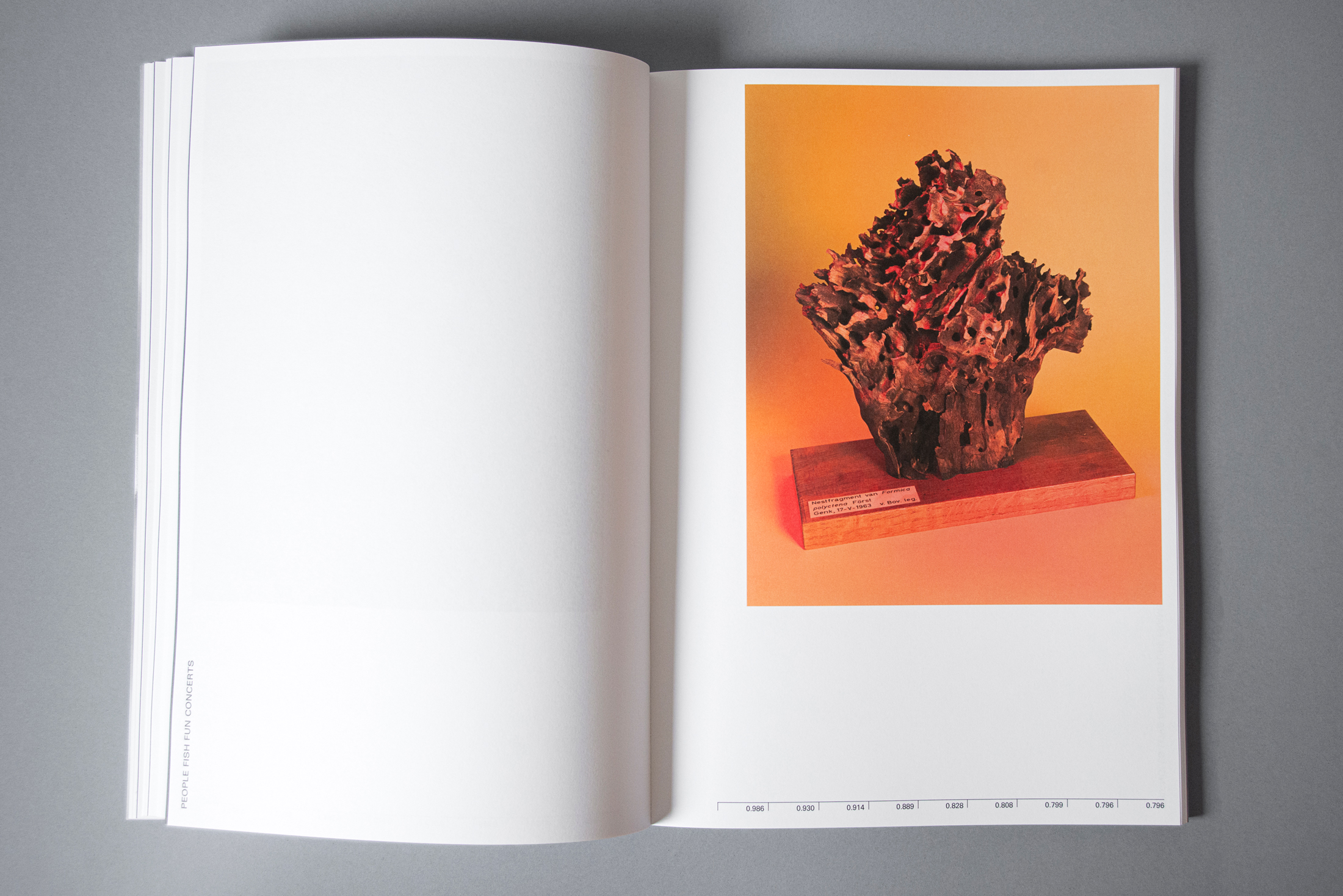 How a type of fungi named Slime Mold ( Physarum polycephalum ) finds its food in the most accurate and efficient way have inspired many studies regarding how a 'brainless' organism can build networks as complex as the subway systems of a big city like Tokyo. Or how bumblebees, ants or cockroaches can be the inspiration for an algorithm, as well as the physical aspects of magnetic fields and spirals.

Each image was individually presented to a software that in turn responded with 9 concepts and a prediction of how precise each of the concepts was. The concepts and the corresponding accuracy (i.e. 1.000, 0.999, 0.998, etc.) ended up determining the presentation of the body of photographic work in book form, such as in the display and order of the images.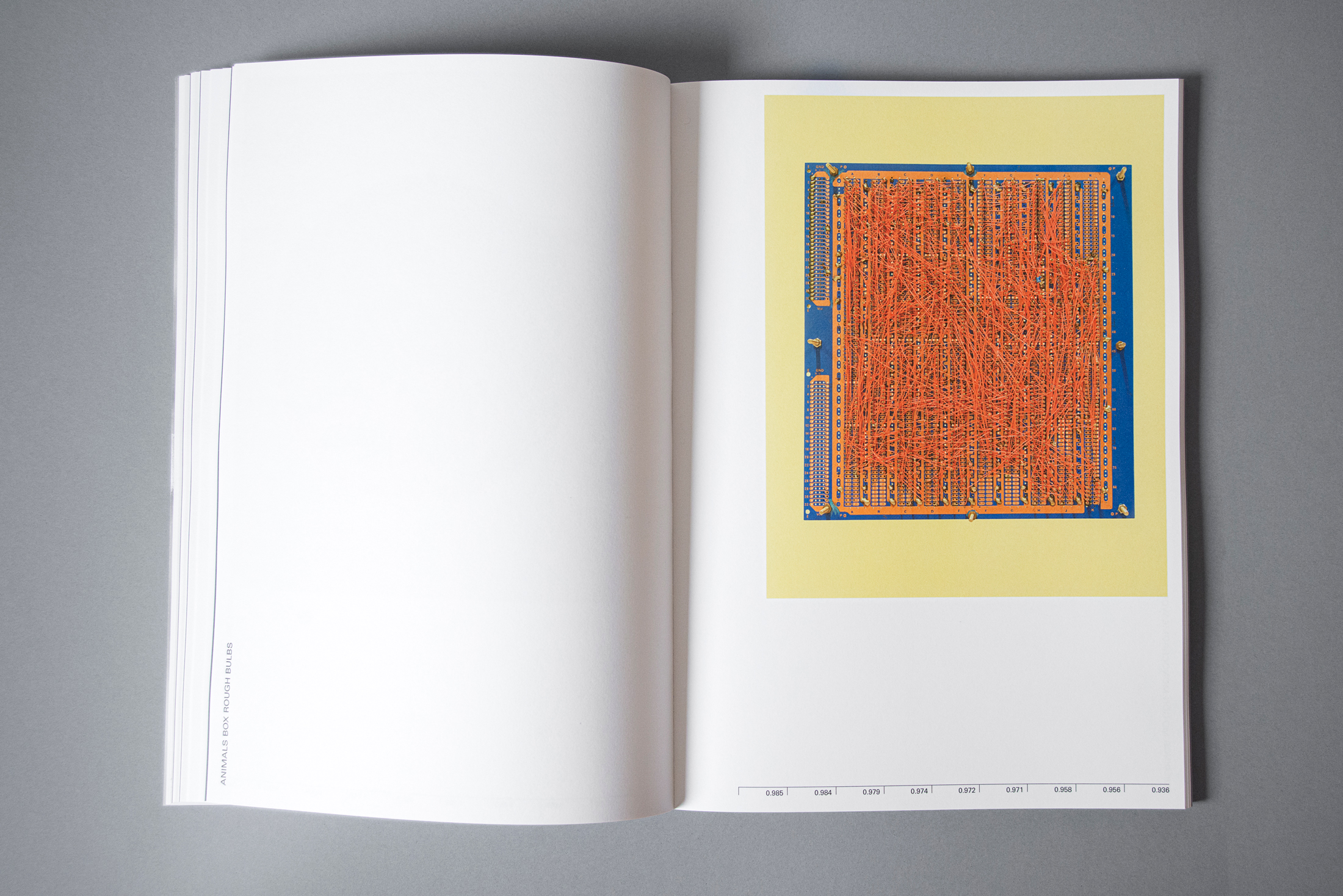 ︎The book was shortlisted for Unseen Dummy Award 2018.
The Best of Mr.Chao -
A Futurologist Collection
Photographs: Guilherme Gerais
Pages: 174
24,7 x 35 cm
+ Insert of 24,6 x 35 cm, 16 pages
Design by Mariana Lobão
Text by Timothy Morton ( excerpt from Dark Ecology )
Edition of 200
Printed by Ipsis
Editora Madalena
Sponsorship: Promic
English and Portuguese
ISBN: 978-85-69557-24-1
August 2019
Brazil.
PT ︎


︎ 'The Best of Mr. Chao - A Futurologist Collection apresenta um arquivo mágico de objetos estranhos e maravilhosos reunidos por um pesquisador fictício, Mr. Chao. A coleção mostra seu fascínio pela relação entre natureza, artifício e avanço tecnológico. Formigas robóticas, um peixe mecânico, um óculos de realidade virtual e um misturador de café são apenas alguns dos muitos itens que aparecem nas fotografias - frequentemente aplicados em contextos bizarros, como se sugerir que sua função inicial nunca foi totalmente compreendida. Guilherme Gerais buscou inspiração visual em visitas a laboratórios, recriações de experimentos científicos reais e sua própria imaginação vívida. Além de examinar como a natureza informa o progresso científico, o trabalho enfatiza o compromisso que temos em projetar nosso próprio futuro. Curiosamente, a edição do boneco foi deixada para a inteligência artificial: um serviço de reconhecimento visual foi empregado para determinar o tamanho e a sequência das fotografias no layout ''. Daria Tuminas, Unseen Magazine #6, May 2019.


︎ The Best of Mr.Chao - A Futurologist Collection pretende ser uma meditação visual sobre o futuro, lidando com situações inventadas, descobertas científicas em laboratórios e universidades, cenas da vida natural e artificial, insetos e microorganismos, robôs e fragmentos de ninhos. Através de uma narrativa interdisciplinar e não linear, a série reúne fotografias sobre um determinado escopo: futuro, natureza e tecnologia.

A intenção é mostrar como esses sujeitos se encontram e se sobrepõem no tempo e no espaço, que não são determinados na série. Isso porque, muitas vezes, as imagens parecem ser de um passado distante ou parte de uma tecnologia obsoleta. Às vezes as imagens são mostradas dentro de propostas tecnológicas que ainda estão em desenvolvimento. E em outros casos, elas emergem da imaginação do artista sobre uma ideia de "futuro".

Neste jogo sobre como a tecnologia parece em um determinado momento, a série também discute como a natureza inspira o progresso científico do homem. Por meio da computação natural, cientistas vêm utilizando o conhecimento ancestral, inteligência, organização, hábitos coletivos e a lógica dos enxames, com o objetivo de desenvolver mecanismos que facilitem a vida cotidiana dos seres humanos.

Como um tipo de fungo denominado Slime Mold ( um organismo "sem cérebro" ), encontra seu alimento da maneira mais precisa e eficiente inspiraram muitos estudos sobre como esse fungo consegue construir redes tão complexas quanto os sistemas de metrô de uma cidade grande como Tóquio. Ou como abelhas, formigas ou baratas podem ser a inspiração para um algoritmo, bem como os aspectos físicos dos campos magnéticos e espirais.

︎O livro foi finalista do Unseen Dummy Award 2018.

︎ Press

Unseen Magazine
Der Greif
Lens Culture
OLD Magazine